Botox in San Francisco
Botox Cosmetic is safe, effective and affordable. After years of squinting, laughing, frowning, smoking, and worrying, the skin around the eyes, forehead and lips often develops deep expression lines and wrinkles. These lines and wrinkles make you appear older, tired or stressed. For years physicians have been using Dysport® and botox in San Francisco as a treatment to correct visible signs of stress and aging. We are recognized as one of the busiest practices for these treatments by Allergan and Galderma pharmaceuticals.
When considering skin rejuvenation techniques through botox in San Francisco or other means, Dr. Bitter Sr and his team of medical professionals have what it takes to deliver results. We are the fourth-largest medical practice in the San Francisco Bay Area for injecting BOTOX® Cosmetic. We have also achieved platinum status; the most prestigious honor with Allergan the makers of BOTOX® Cosmetic. Our approach to Botox treatment in San Francisco is conservative and our goal is for a natural, more youthful appearance. We love your face and your body! Visit our body countouring site www.coolsculptingsanfrancisco.com
What is BOTOX® Cosmetic?
BOTOX® Cosmetic is a therapeutic muscle-relaxing agent derived from the bacterium, Clostridium Botulinum. For over a decade ophthalmologists have used BOTOX® Cosmetic for its original intention, the treatment of blepharospasm. Physicians have utilized BOTOX® Cosmetic for years as a cosmetic treatment to correct visible signs of stress and aging.
How does BOTOX® Cosmetic work?
The contractions and movements of the facial muscles are controlled by signals from the brain. BOTOX® Cosmetic simply prevents the muscle from responding to these messages. As a result, the muscle relaxes and the overlying skin remains unwrinkled and smooth.
What is a BOTOX® Cosmetic treatment like?
With a very fine needle, BOTOX® Cosmetic is injected into the specific muscle that is contracting and causing the lines and wrinkles on the face. Treatment takes approximately 10 minutes. The pain is a minimal "pin prick" and no anesthetic is required. Immediately following your treatment with BOTOX® Cosmetic, you may resume regular activities!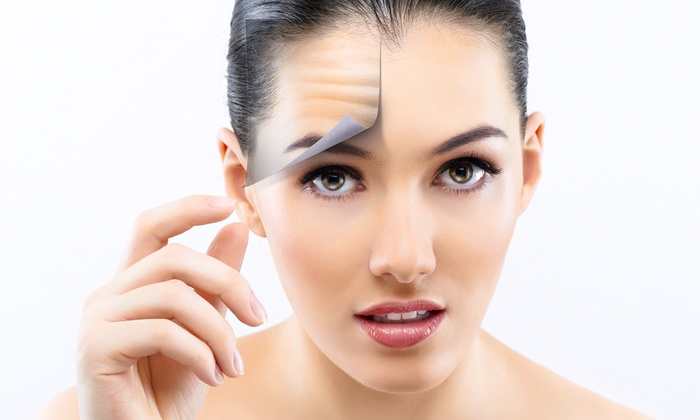 How long does a BOTOX® Cosmetic treatment last?
The effects of Botox usually last 3 to 4 months, and fade away gradually. Following several Botox® Cosmetic treatments, the results may last 4 to 8 months or longer. BOTOX® Cosmetic offers extended relief over the course of long-term treatment.
Are there any possible side effects of BOTOX®?
Side effects of BOTOX® Side effects of BOTOX® Cosmetic, if any, are usually mild and temporary. Botulinum toxin contains proteins, which in some circumstances may be naturally safeguarded against by the body's ability to produce antibodies. If antibodies are formed, the therapy will generate a lesser response. Temporary bruising after Botox injections is sometimes experienced, though this symptom resolves itself within 2 to 3 days. In rare cases, there can be a slight drooping of an eyelid or asymmetry of expression. If this should happen, please return to our San Francisco Union Square practice.
Results for men:
What type of results will I see with BOTOX®?
Typically, the effect of BOTOX® Cosmetic is visible within 3 days. Maximum benefits are reached between 10 to 14 days. Once the muscle relaxes and the skin softens, you will have a more relaxed and youthful appearance. Treatments are not a substitute for the results achieved with a face lift. The optimum appearance may be achieved with BOTOX® Cosmetic therapy in conjunction with a face lift, laser resurfacing, and skin rejuvenation.
If BOTOX® is the solution for you contact us at 415.632.4754 or consider one of our other procedures for a youthful appearance like Photofacial in San Francisco.
To learn more, schedule your complimentary consultation today!
Patient statement:
We welcome the FDA's recent approval of two COVID-19 vaccines, as a way to safeguard the most vulnerable, re-open our the country and continue to treat our patients safely. As with any vaccine or therapy there can be complications and interactions with other medications and procedures. Recently the FDA noted a specific and minor side effect involving several (3) Moderna trial participants with cosmetic or dermal fillers. The reactions involved some swelling and inflammation in area(s) they had previously received dermal filler. Symptoms were not lasting and were easily treated with steroids or antihistamines. Similar reactions have been seen in the past with other vaccines causing inflammation and swelling, in particular the flu vaccine.
For the safety of our patients and until we have further notice from the FDA, we advise waiting a minimum of two weeks between having filler and receiving the COVID-19 vaccination. We also request that you notify staff of any recent or upcoming vaccination plans.
Please also notify us if you have any auto-immune issues or have had negative side-effects to previous vaccines.
Your safety and wellbeing is our utmost concern, please feel free to reach out to us if you have further questions.